China-India Economic Relations: Challenges and Prospects
April 26, 2022
About the author:
Gulshan Bibi, Ph.D. candidate of School of International Relations and Public Affairs of Fudan University, and TI Youth Observer
---
The economic development of both China and India is remarkable. Yet, they view each other as potential competitors both regionally and internationally. China's unique strategy of cooperation and complex interdependence allow it to be economically competitive across much of South Asia, Southeast Asia, Africa, and Latin America. Moreover, China's comprehensive system of infrastructure and innovative export trade have also enabled wide-ranging business ties with India. In 2021, China-India bilateral trade reached a record high of over 125 billion USD. Key Indian imports from China include smartphones, automobile components, telecoms equipment, plastic and metal goods, active pharmaceutical ingredients (APIs) and other chemicals.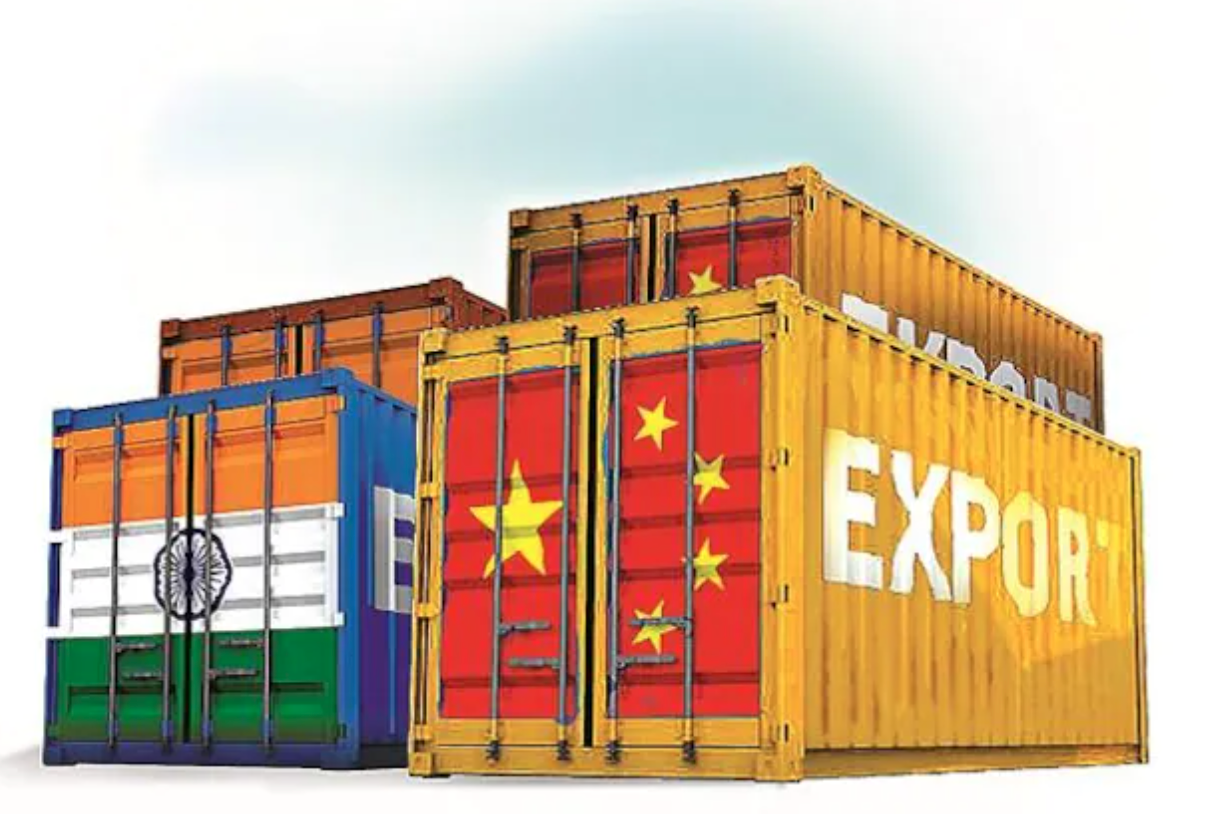 (Source: www.business-standard.com)
Despite growing economic ties with India, China faces a number of challenges to improve the trade and investment relationship. The negative effects of the COVID-19 pandemic on the Indian economy were accompanied by a perceived excess of imports from Chinese firms. Consequently, India began adopting protectionist measures aimed at countering the flooding of Chinese goods in its domestic market. Another medium-term challenge for Sino-Indian trade was the introduction of both a restrictive regulatory environment and visa regime for Chinese businessmen. Long-term challenges between the two Asian giants include conflicting cultural norms, perception building and communication barriers. Among ordinary Indian citizens, there seems to be a widespread level of mistrust in China and Chinese businesses. Similarly, Chinese investors have feelings of insecurity for their assets invested in India.
Another long-term challenge has been the persistent trade imbalance in favor of China. The initial COVID-19 pandemic and its recurring waves were a major contributing factor for increased exports of medical products and raw materials for India's burgeoning pharmaceutical industry. While India is an exporter of APIs, it is also dependent on cheaper API imports from China. This highlights why India seeks increased Chinese investments and access to China's vast market for its IT, pharmaceutical, and agri-products to reduce its trade deficit. Conversely, China believes that Indian manufacturing needs to ascend the value chain before it can increase exports into China's highly competitive market. In short, issues related to market access and security keep the trade balance in favor of China.
A key medium-term challenge to greater Chinese digital investment has been India's concerns of platform control, data security and vulnerability. In 2021, India blocked 59 Chinese social media apps including TikTok, WeChat, Alibaba's UC Browser, Club Factory, and PUBG mobile, calling them prejudicial to India's sovereignty and national security. Later, the blocks were converted into permanent bans.
The geopolitical circumstances impacting economic ties between China and India also present short- and long-term challenges for China's economy. India, along with Australia, Japan and the U.S., is a member of the Quadrilateral Security Dialogue (Quad). A significant stage of the Quad arrangement was the signing by Australia and India of an interim Comprehensive Free Trade Agreement (FTA) on April 2nd, 2022. The Indian-ASEAN Free Trade Area (IAFTA) permits zero duty trade on crucial trade items and provides an opportunity for both countries to diversify trade and reduce economic dependence on China. In order to further diversify its trade balance, India is currently negotiating and signing FTAs with other key trade partners such as the UAE, the EU, and the UK.
Despite the aforementioned challenges, India retains enormous potential for economic complementarity with China. India's vast population, which is expected to overtake that of China by 2050, persistent poverty, socio-economic inequality, rapid urbanization, and inability of governing elites to meet the aspirations of a rising middle class, may cast a shadow upon its long-term economic development. This may in turn negatively impact India's attractiveness to global investors seeking diversification. For example, India's pharmaceutical and motorcycle industries have huge potential due to global health crises and surging energy prices.
Global inflationary pressures can be witnessed in the preference of many Indians for less expensive Chinese products. To satisfy consumer demand, India currently hosts around 800 Chinese companies. Unfortunately, the Indian economy is neither technologically nor economically capable of producing the crucial products it imports from China. India's policies of self-reliance, "Make in India" and "Digital India Programme," are simply not sufficient enough for the country to decouple with Chinese supply chains. In other words, Indian dependency on cheaper Chinese critical power plant equipment, APIs, automobiles, telecoms, and electronic equipment will continue benefiting the Chinese economy over the long-term.
India has good long-term opportunities for Chinese automobile manufacturing and smartphone companies. China's top smartphone brands Xiaomi Corp., Oppo, and Vivo have started discussions with Indian manufacturers about making phones locally for global export. Even during 2020, when tensions between the two countries were high, Chinese goods were not boycotted by the Indian population. There are also significant private investments from China in the Indian tech sector and start-ups, especially those focusing on technology and e-commerce. In 2017, Chinese companies such as Alibaba, Fosun, Baidu, and Tencent invested 5.2 billion USD into 30 Indian start-ups. Alibaba and its affiliates have invested about 1.7 billion USD in the Paytm and BigBasket platforms.
Despite their security and geopolitical concerns, both India and China recognize the mutual benefits of greater economic cooperation. China's vast consumer market and transition to a primarily consumption-based economy promise great potential for Indian investment and trade in goods and services. When considering energy supplies and global economic security, India has little choice but to cooperate with Chinese firms that operate on multilateral international financial platforms.
The damaging effects of the conflict between Russia and Ukraine have created a desperate need for capital inflows to improve living standards, ensure functional governance and maintain economic stability. Commodity and financial markets, commerce and migration, and consumer confidence have all suffered from the on-going crisis. The reluctance of both China and India to involve themselves in the Ukraine crisis is due, in large part, to economic imperatives. Russian gas is provided at beneficial rates to India while China seeks to mitigate risk as a result of the crisis and the ensuing sanctions imposed by the West to ensure the positive long-term trend of its economic relations with both Russia and Ukraine. In 2021, China's trade with Russia totaled 147 billion USD and 19 billion USD with Ukraine. China's trade of finished products with Russia may already be compromised with companies such as Xiaomi, Lenovo, and SMIC, which offer a broad variety of goods in Russia, being negatively affected. The wheat and agricultural trade of China's Northeast region, which borders with Russia, is also expected to decline.
(Source: www.bbc.com)
China's imports of Russian goods may also suffer considerable declines due, in large part, to Western sanctions. Russian imports of potash, aluminum, and nickel will be affected and have an inflationary effect on commodity inputs for China's industrial and manufacturing sectors. Despite China's pre-war replenishment of staple supplies from Russia, Western sanctions are sure to negatively impact natural gas supply and pricing. Increased Russian energy imports may also harm China's long-term energy reform objectives, which are a significant economic and diplomatic priority.
The deterioration of Sino-Indian ties over recent years is, in large part, attributable to the involvement of the U.S. in the so-called Indo-Pacific. Moreover, India's participation in the Quad and its hardening military relations with the U.S. have also alarmed and agitated China's leadership, leading some Chinese observers to believe that India is aiding the U.S. in its quest to contain China's rise.
Nonetheless, China has adopted a responsible attitude towards India as part of the two countries' strategic accord. In March 2022, during the first high-level official visit to India in over two years, Chinese Foreign Minister Wang Yi, Indian National Security Advisor Ajit Doval, and External Affairs Minister Subrahmanyam Jaishankar discussed a wide range of topics. Due to India's refusal to join the U.S. in its condemnation of Russia over the Ukraine crisis, Washington has repeatedly reprimanded and threatened India with sanctions if India acquired Russian oil. The US attempt to exert pressure on India for its own strategic objectives was seen in New Delhi as violating India's independent diplomacy and made the Indians more cognizant of the hegemonic inclinations of the U.S.
In sum, China and India have large populations that prioritize sustained economic development. As such, border tensions with neighbors are seen as both tedious and irrational. Rather, both seek to develop a shared vision that encompasses specific concerns while fostering continued development initiatives along their respective economic paths, which are most suitable for their own national conditions. Along with vaccine supplies, China and India can offer grains, wheat, and rice for sale at globally regulated prices. This initiative may protect Ukraine and other European countries from suffering a price shock in essential goods. Last but not least, both countries can also mobilize global support to oppose unilateral sanctions and increase joint efforts to accelerate both countries' integration into the world economic system through the formation of an alternate trading system.
This article is from the April issue of TI Observer (TIO), which is a monthly publication devoted to bringing China and the rest of the world closer together by facilitating mutual understanding and promoting exchanges of views. If you are interested in knowing more about the April issue, please click here:
——————————————
ON TIMES WE FOCUS.
Should you have any questions, please contact us at public@taiheglobal.org