Ukraine: India and China Cannot Escape Their Destiny in World Affairs
April 26, 2022
About the author:
Vidya Shankar Aiyar, International Relations Analyst, Nuclear Disarmament and Global Peace Activist, Ex-Advisor to Indian Prime Minister's Group on Nuclear Disarmament, and Ex-Executive Editor of CNN IBN (now called CNN News18)
---
India believes the war in Ukraine has disrupted supply chains. Every war changes the world in some way. However, the war in Ukraine would surely count as one of the cataclysmic events of the 21st century, not because of major disruptions in many parts of the world in food and energy supplies, but more because at work are fundamental disagreements in the way the world is run. The war in Ukraine is not an isolated event. It questions the very framework in which international relations exist today.
Three broad regions of the world are jostling for space to express themselves meaningfully, like tectonic plates. Their final configuration will determine what holds and what sinks to oblivion. They are the West, the East, and the Global South. As with any generalization, this is only a broad-brush picture but captures this instant in the state of world affairs. Each time a UN General Assembly vote is cobbled together on an issue related to the war in Ukraine, one can clearly see these three regions positioning themselves to find meaning.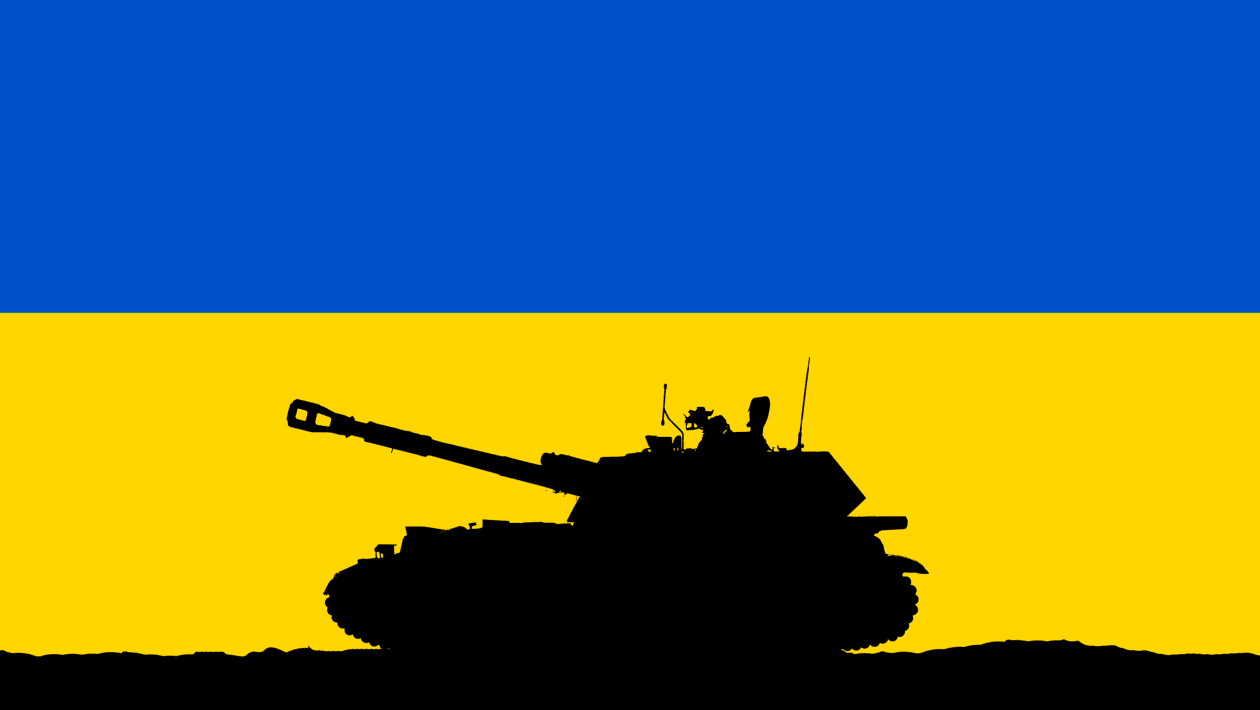 (Source: www.kiplinger.com)
In the case of India and China, long heralded as the fulcrum of Asia's future, this crisis is yet again an opportunity to realize the full potential of their relations. Whether they do or do not will depend on how well the two states recognize the importance of this moment, rise above the context of their immediate bilateral relations, and seize the opportunity for Asia to stabilize and bring order to the world. While the West makes the case for an unassailable position in the world, the opportunity exists for Asia to play a constructive role in giving peace a chance and preventing the outbreak of World War III.
Let's take a closer look at what these fundamental disagreements might be, the framework they question today, and what might provide a meaningful space for these three broad regions of the world. Naturally, there will be socio-political, economic, and strategic implications. Given these developments, what are the opportunities that China and India have, and how best to seize them?
India's immediate concern is in the economic and strategic spheres. India wants an end to the war. It upholds dialogue as the only way forward. India condemns the violence and the humanitarian impact of the war. It calls for an independent investigation of all war crimes. India believes Russia has valid security concerns that the West needs to address. India does not wish to engage in a diatribe of condemnations. It seeks productive and result-oriented action to first end the war and help ease the suffering of the people of Ukraine and establish peace. China's position is remarkably the same. The difference is that China has been more assertive in its expression of support for Russia, be it in the UN Security Council or the UN General Assembly. China and Russia even had a joint statement prior to the war that described their "friendship" as one with "no limits," and conceived as "superior to political and military alliances of the Cold War era."1 India, for its part, is a member of the Quad but is the only one not to be in any treaty alliance with its other members. However, this is not to say that either India or China approves of Russia's war in Ukraine.
Is the war in Ukraine likely to affect India's economy severely? The answer depends on who is asked the question. The Chief Economic Adviser of India, Anantha Nageswaran has said, the "spillover" implications are "likely to be more indirect than direct." He appeared more sanguine about the prospects of any long-term pain for India, suggesting only if the price of oil remains above $100 a barrel "for quite [a] long time" that any revisions to growth estimates need to be made. His larger fear was about the Fed raising interest rates, which are likely to spook global financial markets. He even claimed that in the "[s]econd half of 2022 blue skies will appear, and we will witness the sustainable growth that we witnessed during 2001-2003."2 Of course, it is his job as well to sound positive and reassuring. However, it is also a sign that the government seems confident of tiding over the crisis.
The figure of $100 for a barrel of oil appears fairly frequently in Indian assessments. It is also a figure that India has seen before. Noted economic commentator, Swaminathan S. Anklesaria Aiyar, warns that a long war that pushes oil prices beyond $130/barrel (it touched $139/barrel when the war began) will upend India's calculations, as the budget of the government assumes a sharp fall in food subsidy with the return of rations to normal. Will that happen? In his opinion, if the war continues for six months, a recession is a distinct possibility. A recession, not led by a fall in commodity prices or central banks tightening money supply to check inflation. A recession, because "[t]he problem today is a supply shock."3 Supplies were hit by the pandemic and then by the war. Green investments, as opposed to those in fossil fuels, over a period of time, also make the world more "vulnerable to supply shocks."4 Russia may not produce more, but prices of oil, wheat, maize, nickel, and palladium may just go up, compensating for the effect of sanctions. Indeed, he urges India to keep buying Russian oil unless the West can match its discounts.5 He also suggests that India may use its vast stock of wheat and the prevailing uncertainty to make a "bonanza" of $8 billion in wheat exports, assuming a 30% drop in Black Sea supplies, an average price of $400 per tonne for 20 million tonnes.6
The net understanding is that India will manage the economic impact of the Ukraine war over the short to medium term, but with a cautious eye on long-term impacts. The larger worry for India, therefore, is clearly on the strategic side. How much does the war in Ukraine affect India's worldview? Has it affected the way India views its relations with China?
The Rashtriya Swayamsevak Sangh (RSS) is the ideological parent of the ruling party in India, the Bharatiya Janata Party (BJP). S. Gurumurthy is a member of the RSS, a chartered accountant, economic commentator, Hindu ideologue, and considered influential in the current administration. Writing in the Indian Express, he directly addresses these issues:
A telling message of the Ukraine war is that no country can trust even the global commons. It leaves behind a world of distrust. It will increasingly force each nation to be on its own—atmanirbhar…the very antithesis of globalization. An alternative to SWIFT [Society for Worldwide Interbank Financial Telecommunication payments system] is already underway with some 63 central banks collaborating on a new payments system.7
This is a huge shift in India's thinking.
In a section dealing just with China-U.S. relations, including the virtual meeting between US President Joe Biden and Chinese President Xi Jinping, Gurumurthy says the U.S. was unable to "protect its protégé." Nor was Biden able to extract any commitments from Xi after a two-hour conversation. Instead, President Xi "snubbed" Biden, telling him, "one hand cannot clap" and "those who tied the bell to the tiger must untie it."8
On China-India relations, Gurumurthy credits India's "calculated geopolitical risk" of being neutral, despite being a member of the Quad, as the immediate motivation for China's foreign minister, Wang Yi's visit to New Delhi in March.9 This was a low-profile visit. Details were kept from the Indian press on China's request, as per the Indian media. It was a time when many Western leaders were visiting India to encourage it to back the West's stand. It is worth noting his exact words describing Wang Yi's visit:
…significant development. India's independent position on Ukraine is itself a message to China that India would withstand US pressure. If it can lead to some trust and understanding between China and India on the borders, that can pave the way for an informal Russia-China-India axis for future.10
Notice the open-ended wording of what might improve India-China relations, and how this might be the right time. Notice also the extent of his vision, imagining an axis of Russia-China-India. It is interesting that Gurumurthy talks of a world of distrust due to the Ukraine war but is willing to trust a growth in India-China-Russia relations now. This is not an aberration, but a reflection of traditional thinking in India on the role of the U.S. in international affairs.
The hypocrisy of the West is not lost on India.11 Nor is it lost on China. However, taking this stand now on relations with China, despite being a member of the Quad, and having got into a close clinch with the U.S. owing to the Indo-U.S. Civil Nuclear Deal, is remarkable.
To understand how far India has traveled since Galwan, here is a striking example. Post-Galwan, in a vitriolic riposte to the border incidents, Gautam Bambawale, former Indian Ambassador to China and long-time desk hand on China affairs in India's foreign ministry, trashed India-China relations. "What is it that China wants?" he thundered. "What is this China Dream that they keep talking about? …This dream is nothing else than to dominate the world, become the sole superpower in international politics, and create a Pax Sinica." Then he goes on to posit that India will be "very uncomfortable" with this "because our values are diametrically opposite…"12 Having struck a popular chord with the media on this, he repeated it to The Hindu's Ananth Krishnan.13
Embarrassing, for a former ambassador to China to praise relations when in service and suddenly realize immanent "opposite values" of two Asian powers while out of it. However, while the view that ties won't entirely be back to normal till border issues are sorted still holds, there is no talk of "opposite values." Though India and China worked to lower temperatures, it is the common problem the two face, in terms of the war in Ukraine, that enabled this positive ferment. It reflects the weakness and the strength of India-China relations. It means that China and India HAVE to find a way to deal with the border stand-off while this goodwill lasts. China MUST recognize that regardless of who it blames for provocations on the border, India fundamentally wants good relations with China. This is independent of China's relations with the U.S., Russia, or Pakistan. Wang Yi's visit is an indication that this might be happening. And as the larger power, China should take the initiative. It is no coincidence that India has never mentioned China in Quad communications, unlike its other members. India too recognizes that despite China's many issues with the U.S., it also seeks good relations with the U.S. These ideas are not mutually exclusive. American domestic politics, however, is another animal altogether.
Two crucial votes at the UN General Assembly (UNGA) would clarify India's perspective of tectonic global shifts. India abstained in both the vote condemning Russia for its aggression on Ukraine (March 2nd, 2022) and the one on suspending it from the UN Human Rights Council (April 7th, 2022). China Abstained in the first and voted Against in the second. The first result was 141 YES, 5 NO, and 35 ABSTAIN. The second result was 93 YES, 24 NO, 58 ABSTAIN. The 35 who abstained the first time was not an insignificant number. It also included South Africa (a BRICS member), Namibia, Bangladesh, Sri Lanka, Pakistan, and some from Central Asia, Africa, and Southeast Asia. However, on the second vote, the world was clearly split. And on the question of human rights, no less. Vast swathes of Latin America, Africa, Southeast Asia, and South Asia had entirely swung over to abstain. Singapore, Indonesia, Malaysia, Mexico, Brazil, and states from the Caribbean, the Middle East, and West Asia, all were a full swing away from the first vote.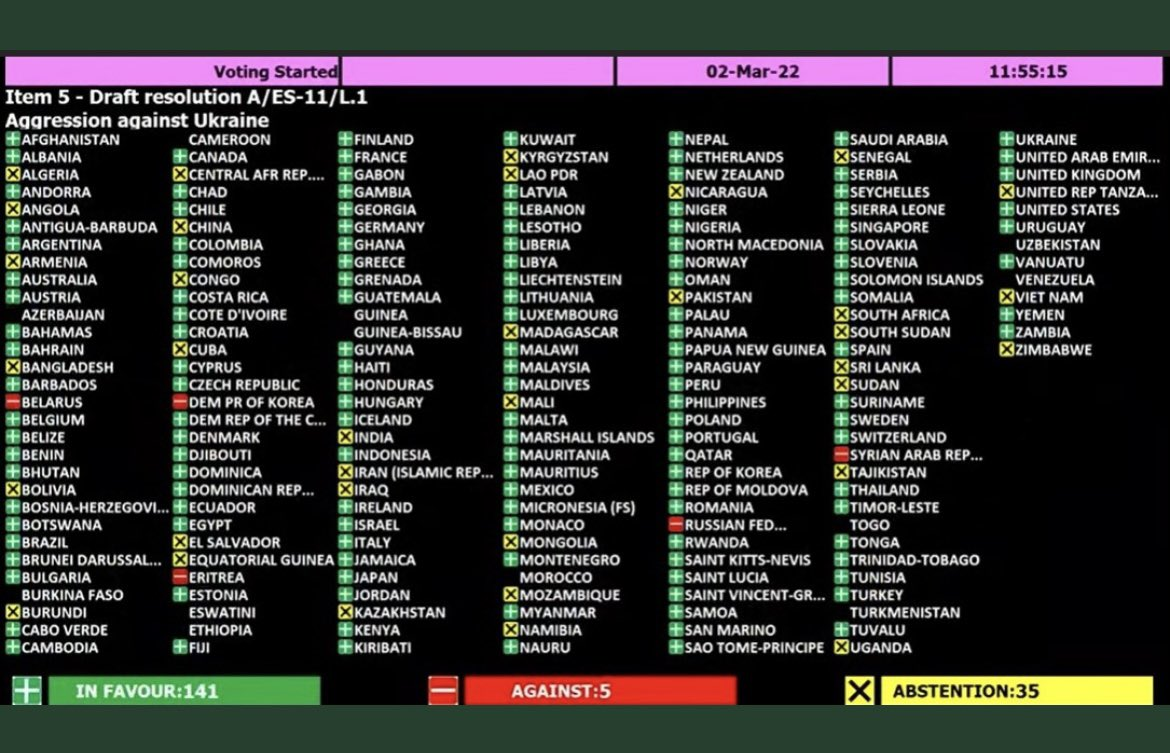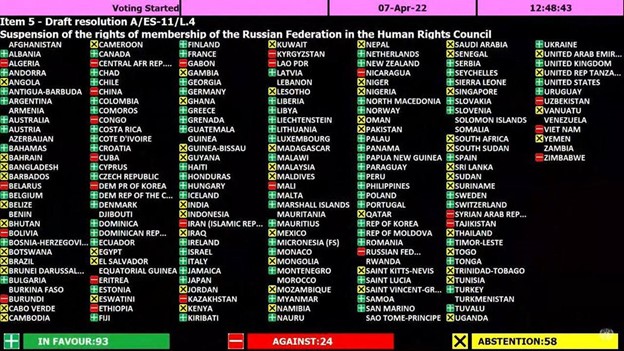 Member states of the UN are not fools. They realize that the UN system, with its permanent members of the Security Council wielding their veto, is fatally flawed. If today a new United Nations were to be set up, it is highly unlikely that the world will accept any veto rights. Yet, if the world is not to collapse into chaos, the only order that one now has for conducting international relations is international law as developed by the UN system. There cannot be any other. The attempt of the U.S. to define a parochial "rules-based international order" is as false as its attempts to appear holier than thou on human rights. This fact was only too embarrassingly brought out when the American UN Ambassador's remarks condemning Russia's use of cluster munitions in its war on Ukraine were withdrawn on the one hand, despite being a part of the speech she delivered at the UNGA on the other. The U.S., like India, is not a part of the convention banning cluster munitions.
The war in Ukraine has exposed the truth. States do not accept the way the world is run because it is an unfair and unequal world. Inequalities may persist, but the world needs to pull together to ensure justice. Racism is rampant, whether it is against colored people, Muslims, or the Chinese. Asia must retain its own identity and diversity. The days of Christian domination or Euro-Atlantic domination are numbered. At one level, Ukraine threatens to take the world back to the problems that led to the Second World War. The alternative is to reject the politics of domination and difference and work towards social justice and harmony. It is Asia's responsibility to work towards this. India and China cannot escape their destiny in world affairs.
1. "Joint Statement of the Russian Federation and the People's Republic of China on the International Relations Entering a New Era and the Global Sustainable Development," President of Russia, February 4, 2022, http://en.kremlin.ru/supplement/5770.
2. Rajat Mishra, "Spill over Due to Ukraine Crisis Is More Indirect than Direct: CEA Nageswaran," Business Today, April 12, 2022, https://www.businesstoday.in/latest/economy/story/spill-over-due-to-ukraine-crisis-is-more-indirect-than-direct-cea-nageswaran-329577-2022-04-12?utm_source=recengine&utm_medium=web&referral=yes&utm_content=footerstrip-4&t_source=recengine&t_medium=web&t_content=footerstrip-4&t_psl=False.
3. Swaminathan S. Anklesaria Aiyar, "Russia-Ukraine Conflict: Is an Outright Recession Now Inevitable?," Swaminomics, April 4, 2022, https://swaminomics.org/russia-ukraine-conflict-is-an-outright-recession-now-inevitable/.
4. Ibid.
5. "India Should Keep Buying Russian Oil Unless West Can Match Discounts - Times of India," The Times of India, April 3, 2022, https://timesofindia.indiatimes.com/india/india-should-keep-buying-russian-oil-unless-west-can-match-discounts/articleshow/90613597.cms.
6. Swaminathan S. Anklesaria Aiyar, "Sell Wheat, Not War: If India Acts Quickly, Ukraine War Could Hand It a $8 Billion Bonanza," Swaminomics, March 21, 2022, https://swaminomics.org/sell-wheat-not-war-if-india-acts-quickly-ukraine-war-could-hand-it-a-8-billion-bonanza/.
7. S. Gurumurthy, "Ukraine Crisis: The War That Is Changing Relations, Rules," The New Indian Express, March 25, 2022, https://www.newindianexpress.com/opinions/columns/s-gurumurthy/2022/mar/25/ukraine-crisis-the-war-that-is-changing-relations-rules-2434015.html.
8. Ibid.
9. Ibid.
10. Ibid.
11. Swaminathan S. Anklesaria Aiyar, "Western Hypocrisy and the Impracticability of a Tribunal to Try Russia," Swaminomics, April 16, 2022, https://swaminomics.org/western-hypocrisy-and-the-impracticability-of-a-tribunal-to-try-russia/.
12. Gautam Bambawale, "'Leverage China's Vulnerabilities in Tibet, Taiwan and Xinjiang'," The Economic Times, June 19, 2020, https://economictimes.indiatimes.com/news/defence/leverage-chinas-vulnerabilities-in-tibet-taiwan-and-xinjiang/articleshow/76460135.cms?from=mdr.
13. Ananth Krishnan, "For Minor Tactical Gains on the Ground, China Has Strategically Lost India, Says Former Indian Ambassador to China," Return to frontpage (The Hindu, June 21, 2020),https://www.thehindu.com/opinion/interview/for-minor-tactical-gains-on-the-ground-china-has-strategically-lost-india-says-former-indian-ambassador-to-china/article31884054.ece.
This article is from the April issue of TI Observer (TIO), which is a monthly publication devoted to bringing China and the rest of the world closer together by facilitating mutual understanding and promoting exchanges of views. If you are interested in knowing more about the April issue, please click here:
——————————————
ON TIMES WE FOCUS.
Should you have any questions, please contact us at public@taiheglobal.org