The 2022 Two Sessions—11 Million New Urban Jobs, Female, and Gig Workers Protection
March 29, 2022
About the author:
Gao Zihao, Co-Founder of BetaAgency, and TI Youth Observer
---
For the current round of Chinese university graduates, securing an ideal placement in a tightening employment market poses real challenges. China is currently facing a trinity of market pressures: contraction of demand, supply shocks, and weaker expectations. As such, this year's annual Two Sessions have produced many suggestions and decisions focused on government solutions to assist job seekers as they navigate employment market difficulties.
(Souce: www.scmp.com)
In addition to the proposed package of employment solutions, the 2022 Two Sessions took on future employment headwinds facing the Chinese economy. As expected, the annual Report on the Work of the Government, which set the domestic political agenda and projects future economic growth targets,1 prioritized the need to stabilize employment, met the needs of people's basic living requirements, and secured the economy against risks that may imperil the future of the Chinese people. The new emphasis on employment measures by this year's Two Sessions was summarized as the "employment-first policy."
Three perspectives distinguish the new employment-first policy: demand-side policies (to broaden employment channels), supply-side policies (to better serve the needs of the applicants), and anti-discriminatory policies (to protect women and vulnerable groups). Especially noteworthy is that this year's Two Sessions emphasized social insurance and protection policies for independent contractors, such as gig-economy workers and short-term employees, thus putting people first amid the challenges of the new employment environment. These new emphases on the new employment-first policy raise the three following questions:
1. How can China's supply-side adjustments generate over 11 million new urban jobs in 2022?
2. What are the employment policies for new college graduates, young entrepreneurs, and gig workers?
3. How can China progress in its efforts to eliminate employment discrimination, including gender and age restrictions?
In response to the first question, unlike many countries which pass the responsibility of protecting the unemployed from the supply-side to the market-side via unemployment insurance, China's Two Sessions emphasized the role of the government to promote employment. Dai Yuanhu, Director of the Department of Human Resources and Social Security in Jiangsu Province, which has the second-largest GDP of China,2 has summarized China's supply-side policies on employment as follows:
"Firstly, we aim to strengthen the government's responsibility to promote employment; secondly, the policy formulation is oriented to strengthen the synergy between employment policies and fiscal, industrial, financial and social policies, and the pulling effect on employment should be fully considered in the formulation and evaluation of various policies; thirdly, we should prioritize employment services as the first and foremost practical work for the people."3
In other words, the policies adopted at the 2022 Two Sessions, including the new fiscal and monetary policies, will regulate the demand-side of the job market to provide employment priority and stabilize the employment market organization.
(Source: www.wenzelfenton.com)
Importantly, a stable market allows the supply-side of the job market to regain full capacity. Zheng Yali, a representative of the National People's Congress and President of Zhejiang Financial College, noted, "The economy is steadily recovering, but there are still some industries and enterprises whose production and operation have not yet fully recovered. In addition, the structural contradictions in employment have not been fundamentally alleviated, and the concurrent phenomena of 'employment difficulties' and 'recruitment difficulties' still exist." 4 The millions of market entities, which support hundreds of millions of people in employment, are bolstered by business pioneers who strive to be successful entrepreneurs. The 2022 Government Work Report also emphasized a "dual focus" that stabilizes employment by steadying market entities and enhancing the role of entrepreneurship in driving employment.
Importantly, a stable market is underpinned by robust MSMEs (micro, small and medium-sized enterprises). In addition to the policy support for enterprises listed in the Government Work Report,5 China will extend temporary policies such as reductions to premiums for unemployment insurance and worker compensation. Moreover, the government will continue the policy of refunding unemployment insurance premiums for enterprises that make no cuts or minimal cuts to staff numbers, with a marked increase in the proportion of refunds going to MSMEs. "This year, Jiangsu's rebate ratio for MSMEs can be raised to a maximum of 90%," said Dai Yuanhu.6
In response to the second question, in order to address the employment issue of the expected 10.76 million college graduates in 2022, the Government Work Report has proposed stronger policy support and uninterrupted services in an effort to ensure improved conditions for job seeking or creating start-up businesses. For example, the Ministry of Human Resources and Social Security said in February this year that the employment of college graduates and other young people would be a top priority for policy-making. The key goals included increasing employment support initiatives for MSMEs that could best absorb graduates by the implementation of a million youth apprenticeship recruitment program, simplifying and optimization of employment procedures for graduates, and a multiplying approach to the market-oriented social employment channels.7 Zheng Yali has also suggested that the government should expand employment locations and introduce more policies and initiatives that can motivate college students to work in small and medium-sized cities, grass-roots units, and MSMEs.8
Importantly, the new economy has generated significant changes to the workforce in recent years, including delivery drivers, take-away riders, and ride-share drivers. These new and more flexible employment channels in China have presented working opportunities for approximately 200 million people. The Government Work Report further proposed improvements to social security policies for flexible employment and to carry out pilot projects on occupational injury protection for the new flexible workforce:
"We will do more to promote business startups and innovation initiatives and improve the service capacity of entrepreneurship and innovation platforms. We will improve services and social security policies concerning flexible employment and launch trials of occupational injury insurance for people in new forms of employment. We will work hard to prevent and stop gender, age, and education discrimination in the workplace in order to create a fair employment environment. We will strengthen oversight and enforcement of labor protection laws and focus on addressing acute issues that are infringing upon employees' lawful rights and interests."9
China is counted among pioneer countries that have proposed protections for gig-economy workers, flexible employees, and independent contractors. Li Dongsheng, Chairman of TCL Group, said, "Since the Internet platform employment relationship is complex and difficult to be included in social security, in order to regulate the labor contracts of flexibly employed people and protect their legal rights and interests, an independent and coordinated insurance platform for flexibly employed people can be set up within the national social security system, with clear payment standards to continuously improve their enthusiasm to participate in insurance."10
In another key step, the government opened channels for gig-economy workers to gain new skills and therefore new working opportunities, while encouraging companies to keep their employees through adaptive fiscal policies. A total of RMB 100 billion, from the unemployment insurance fund, will be used to support enterprises in maintaining stable payrolls and to provide training programs. Moreover, the government will continue to train skilled workers for high-quality development of manufacturing. These efforts not only enable more workers to acquire marketable skills but promote the retention of large numbers of talented people across all sectors of the economy.
In response to the third question, gender discrimination, employment preference for new college graduates and incomplete employee disclosure are significant obstacles for many job applicants. The 2022 Government Work Report has proposed to resolutely prevent and correct gender, age, and other employment discriminations in order to create a fair employment environment. These discriminations prevent both young and middle-aged people from flourishing and their families from expanding. A fair employment environment is essential to helping workers of all ages to develop their skills and fulfill their potential.
He Dan, Director of the China Population and Development Research Center, was concerned that the extension of maternity leave might generate risks of employment discrimination against women. According to He, "The extension of maternity leave must be affirmed, but at the same time there is a need to well coordinate all aspects of the policy, and also to advocate the implementation of a flexible work system to minimize the impact of women's childbirth on themselves and their companies."11
Jiang Shengnan, a researcher at Wenzhou University, believed that any increase in the disparity between the length of maternity leave and paternity leave would reduce the willingness of professional women to have children. This maternity/paternity leave disparity, which might exacerbate employment discrimination against women due to childbirth, might also not be conducive to increasing male participation in childcare. In order to give husbands more time to care for their wives and newborns, it was recommended that paid paternity leave be increased from 30 days to 42 days.12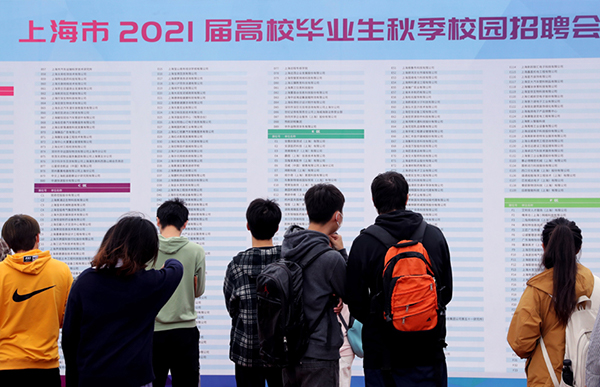 (Source: http://english.www.gov.cn/)
Amid the challenges and difficulties identified in the current employment market, the robust and responsible government response, which aligns with the diligence of the citizenry, regardless of their age, gender, and working positions, ensures the peaceful order of the Chinese commonwealth. Chinese businesswoman Dong Mingzhu, President of Gree Electric and a female entrepreneurial role model, has commented on the spirit of China's youth.
"[I]t is necessary for young people to have the spirit of perseverance and courage to face sufferings. Although we live in an age of material abundance, we cannot lose our dreams and ambitions. Only after experiencing repeated challenges and all kinds of hardships, young people can survive any difficult times with unshaken optimistic mindsets, so that they can put their wisdom to good use in their future life."13
1. Details of the targets can be accessed at "Report on the Work of the Government," pp.11. https://english.news.cn/20220312/896e1411ba1445679f136dcc9cd4d393/c.html
2. Data collected from People. cn, http://zj.people.com.cn/n2/2022/0126/c186327-35113720.html
3. Interview by News.cn, "(两会财经聚焦)2022,'就业优先' 如何落实落细?" http://www.news.cn/politics/2022lh/2022-03/07/c_1128447750.htm
4. Ibid.
5. The details of the Report on a new package of tax-and-fee policies to support enterprises can be accessed at "Report on the Work of the Government," pp. 15-16, https://english.news.cn/20220312/896e1411ba1445679f136dcc9cd4d393/c.html
6. Interview by News.cn, "(两会财经聚焦) 2022,'就业优先' 如何落实落细?" http://www.news.cn/politics/2022lh/2022-03/07/c_1128447750.html
7. "人社部:今年将高校毕业生等青年就业作为重中之重," people.cn, http://society.people.com.cn/n1/2022/0222/c1008-32357174.html
8. Ibid.
9. "Report on the Work of the Government," page 17-18, https://english.news.cn/20220312/896e1411ba1445679f136dcc9cd4d393/c.html
10. "人社部:今年将高校毕业生等青年就业作为重中之重," people.cn. http://society.people.com.cn/n1/2022/0222/c1008-32357174.html
11. Ibid.
12. "给男性延长育儿或陪产假,从建议到现实有多远," China News, https://www.chinanews.com.cn/sh/2022/03-06/9694036.shtml
13. "(两会青年问答) 董明珠:应该让年轻人选择喜欢干的事情" http://www.news.cn/talking/2022-03/10/c_1211603050.htm
This article is from the March issue of TI Observer (TIO), which is a monthly publication devoted to bringing China and the rest of the world closer together by facilitating mutual understanding and promoting exchanges of views. If you are interested in knowing more about the March issue, please click here:
——————————————
ON TIMES WE FOCUS.
Should you have any questions, please contact us at public@taiheglobal.org