On March 8, 2022, His Excellency Mohammad Keshavarz-Zadeh, Ambassador of the Islamic Republic of Iran to the People's Republic of China visited Taihe Institute (TI). The Ambassador and his colleagues conducted in-depth discussions with Mr. Wu Hailong, President of China Public Diplomacy Association, TI senior fellows Mr. Liu Yangsheng and Mr. Wu Yihong, as well as members from TI Executive Council. During the discussions, both sides exchanged ideas on topics including the "Geopolitics of the Middle East: The New Dynamics of Regional Security and Future Evolutions" and "The Future of China-Iran Relations Under the China-Iran 25-Year Comprehensive Cooperation Agreement."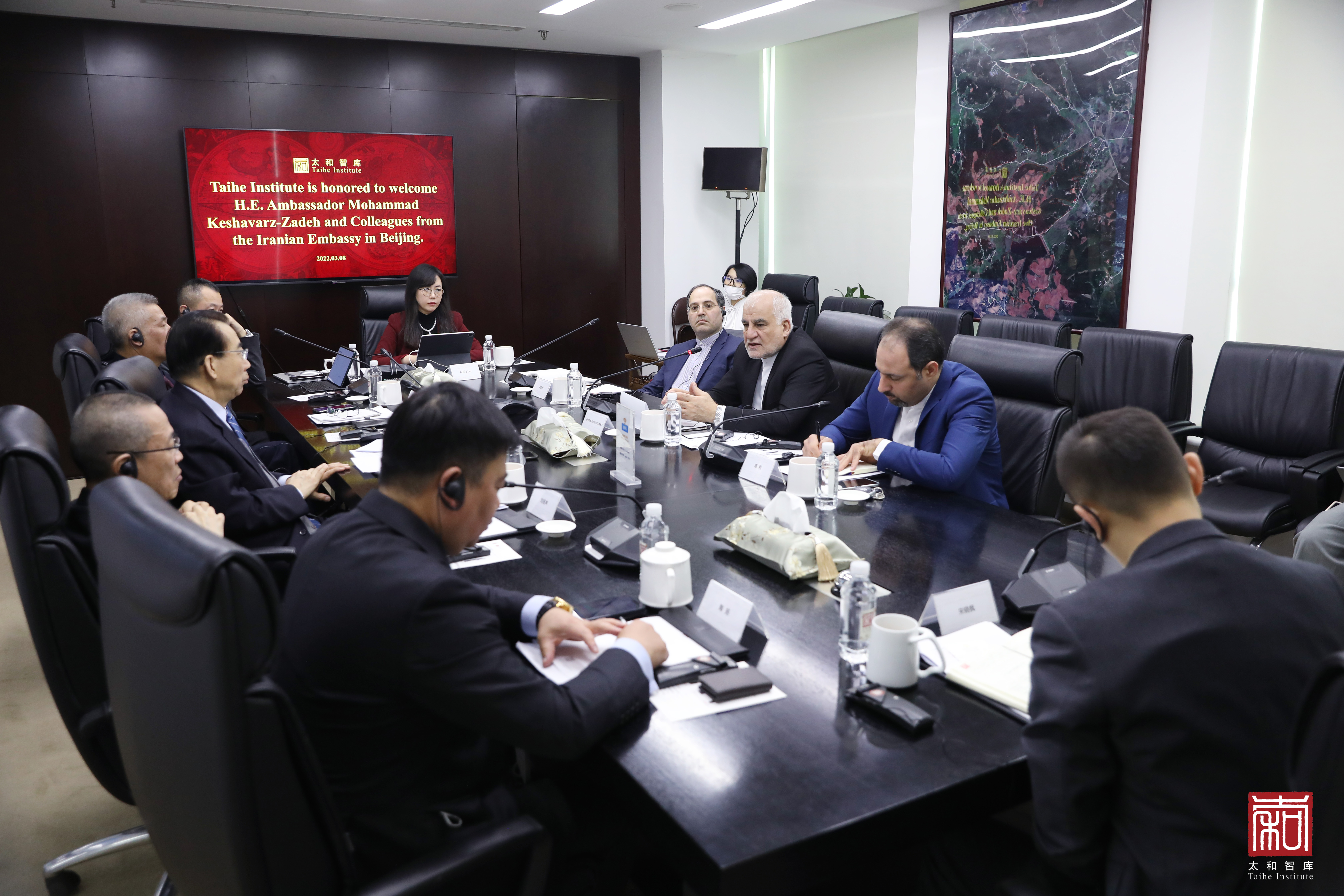 His Excellency spoke highly of the benefits the Belt and Road Initiative (BRI) has brought to countries along the route in infrastructure construction and other associated fields. Iran is an important partner of the BRI, and in particular, as the gateway from China reaching to West Asia and the Arab World. BRI connectivity holds great potential to provide increasing benefits for China-Iran ties, foster good neighbour relations between countries along the route, and promote coordinated economic development across West Asia. Significantly, the increasingly open business environment of China offers historic opportunities for China-Iran cooperation in energy, health, agriculture, communications, aviation, tourism, and other diverse sectors of trade and investment.
The growing comprehensive relationship between China and Iran has sound historical foundations. As such, the bilateral relations within the framework of the BRI and the China-Iran 25-Year Comprehensive Cooperation Agreement hold enormous potential.
—————————————————————
ON TIMES WE FOCUS.
Should you have any questions, please contact us at public@taiheglobal.org