Community Resilience Among Chinese People During COVID-19
March 01, 2022
About the author:
Ella Xiao Yifei, TI Youth Observer
---
After attending a year of "Zoom college" in Shanghai, last August, I was finally able to board my flight to the U.S. and resume my in-person college life. The COVID situation was still concerning, however, as the second small wave just hit many Chinese provinces. Mask-rules, COVID tests, temperature checks…everything was, once again, strictly enforced.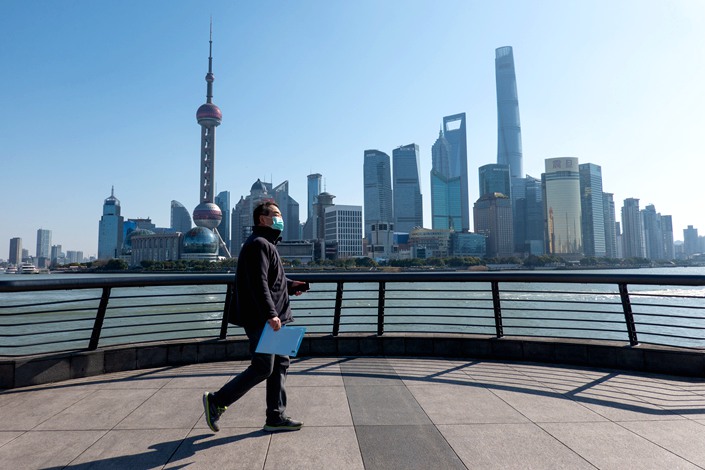 (Source: www.caixinglobal.com)
My parents and I arrived at the airport two hours earlier than usual for health clearance. While we were waiting in line, two ground crew members were busy distributing health forms that should be filled out by all passengers prior to departure. Everyone seemed anxious. My mom, who had been stressed for months about my upcoming "adventure" to the U.S., where the number of infections and deaths were surging every day, wanted to videotape the last-minute "in-person" me before I had to become her "remote daughter" for more than one year. As she took out her phone from her purse, a security guard came by. He directed my mom and the other parents to a spot slightly farther away from the passenger queue, suggesting them to film us there so that they could get a better shot of us while ensuring order at the airport. Taken aback, I couldn't help but think: "Wow! They are so considerate!" Even with the masks, I felt like I could see his friendly smile and the parents' grateful smiles.
This past year has changed our lives in drastic ways. While many people have been busy complaining about how the lockdowns and rounds of COVID tests disrupted their lives, they tend to take the efforts of frontline workers for granted. Maybe the security guard really felt for us, I thought. After all, sending the kids to another country in times of risk and uncertainty is indeed a big challenge for parents. Suddenly, I felt a sense of gratitude coming from the bottom of my heart, and memories began flooding back.
Not long before my departure, a relative came to visit my family in Shanghai. He told us with excitement that he just got vaccinated as part of the elderly care program carried out by his local neighborhood. He was picked up by a "care bus" together with other residents that needed special care. All of them were then given priority by healthcare workers at the vaccination center and were taken home safely. In his neighborhood, community workers and young volunteers also assisted the elderly with basic needs to protect them from COVID, delivering groceries to their doors and arranging remote health counseling for them.
The story was not unique to Shanghai. I remember seeing in the news a few days before I left for school the story of Wang Zhenheng, a team member from the First Affiliated Hospital of Suzhou University. When he was conducting COVID tests for the residents of Wanshou village, a little girl placed a folded piece of paper on his table and said: "This is a little gift for you, thank you!" It was a drawing of the frontline medical workers wearing protective gears fighting against the coronavirus. Wang was deeply touched. He then recalled that the temperature in the testing site was about 39°C. With the protective gears, it felt like there was a steamer inside. To help Wang and his team members cool down, Wanshou's community staff bought popsicles and tie them behind their backs. Meanwhile, the village officials bought ice buckets, and the owner of the community fruit shop brought watermelons to the testing site for free.
(Source: www.shine.cn)
Unlike many in the West who took to the streets to protest against what they perceived to be a political ruse, Chinese communities responded to the health crisis as a corporate body, where nearly all elements of society moved swiftly into action uniformly. And if the earlier two examples are not convincing enough, what happened in Global Harbor Plaza is surely a prominent case to illustrate this.
Global Harbor Plaza is a big shopping center in Shanghai that experienced a temporary 55-hour-close-management emergency in January 2022. The day the shopping center was shut down, posts from people quarantined in the mall were shared everywhere on different Chinese social media platforms including WeChat, Weibo, and TikTok. People throughout China were worried. I was also deeply concerned about their well-being as thousands of shoppers trapped in a mega-mall sounds like a situation that might easily become messy and chaotic.
As time passed, contrary to what I had expected, it turned out that the emergency was handled in an extremely orderly manner, with everyone being patient and cooperative. The mall opened its cinemas for customers to sleep and distributed toiletries, pillows, and blankets. During the daytime, blockbuster films were played on the big screens non-stop for free. Tents from camping stores were set up for people to rest. Many restaurants offered free food and drinks, and some business owners even offered free bubble tea! Maternity and infant stores also gave out toys to appease stranded children, and a beauty salon invited the elderly to sleep on the hairdressing chairs. All of these happened while the COVID tests were moving in an orderly way.
Two days after the emergency was announced, the quarantine ended—everyone inside the mall was tested negative. The manager of the shopping mall sent out small gifts and flowers to the customers for their patience and cooperation. And the customers left with gratitude.
As I was writing this article, my friends were sitting in the kitchen of my dorm watching the 2022 Beijing Winter Olympics, cheering for athletes from around the world. I thought to myself, despite all the challenges, a growing sense of connectivity, resilience, and trust among the Chinese people has emerged from this hardship. The Year of the Tiger will be one of shared joy and love.
This article is from the February issue of TI Observer (TIO), which is a monthly publication devoted to bringing China and the rest of the world closer together by facilitating mutual understanding and promoting exchanges of views. If you are interested in knowing more about the February issue, please click here:
Should you have any questions, please contact us at public@taiheglobal.org