How Is the Pandemic Reshaping China's Consumer Journey?
January 28, 2022
About the author:
International Communications Officer, Taihe Institute
---
Emergencies cause disruptions. But disruptions bring opportunities. The indelible link between the SARS outbreak in 2003 and the rise of the e-commerce sector in China is an oft-cited example. In 2020, with the spread of the COVID-19 pandemic throughout China, the same story happened again: technological developments grew out of this need to respond to the challenges posed by COVID-19 and they have facilitated the country's economic recovery by "moving" traditional industries like agriculture online. With a supportive policy environment, it is only reasonable to project that e-commerce will assume an increasingly dominant role in shaping the country's economic development as the world continues to adjust to a post-lockdown new normal.
A long-time issue of interest to policymakers, economists, and business influencers alike is China's economic performance during the pandemic. While many cast a dim light on China's economic growth, asserting that its policy for COVID-19 containment has and will keep weighing on consumption, others show that Beijing has demonstrated great adaptability in adjusting its policy stance towards innovators, which means that the pandemic has in fact witnessed an amplification of creativity and a transformation of business climates.
Initiated by Tencent and the China Central Television (CCTV), and under the support of the Guangdong Provincial Agriculture and Rural Affairs Department, ten women county magistrates from Guangdong, Shanxi, and Heilongjiang provinces gathered together on March 8, 2020, to host a livestreaming to promote local agricultural produce
The rapid adoption of livestreaming, particularly in the Chinese rural area, is perhaps the most notable example that reflects how e-commerce advanced through the pandemic and helped network different communities during the trying times. Chinese farmers, while used to go online in their daily lives via smartphones, still relied heavily on offline markets to sell their goods. It is thus not surprising that the pandemic, along with the attendant lockdown policies, hit them so badly that they had to throw out mounds of rotting produce even as the demand for groceries soared.
Poster of a livestreaming hosted by Michael Yu Minhong, Founder and President of New Oriental Education & Technology Group Inc., on December 28, 2021
Amid this devastation, Beijing embraced internet infrastructure development and e-commerce expansion more than ever before.[1] In 2021, the value of China's e-commerce amounted to around $2.14 trillion, up from $1.87 trillion in 2020, and $1.62 trillion the year before.[2] Simultaneously, the private sector was encouraged to mobilize behind these efforts. Both JD.com and the Alibaba-owned Taobao quickly launched rural livestreaming initiatives, helping farmers and small merchants in rural areas set up online stores with expedited approvals and showing them how to design the content of their broadcasts.[3] Tencent (WeChat), ByteDance (Douyin—the Chinese version of TikTok), Kuaishou, and Pinduoduo also followed suit to promote new sales channels to link farmers and urban consumers. They made their apps more intuitive and used their logistics networks to shop the products directly from farm to home. China's state-owned broadcaster CCTV joined this effort as well, collaborating with popular Chinese influencers, movie stars, and prominent figures from other sectors like Michael Yu Minhong, who have millions and billions of fanbase to help Chinese farmers sell their local products in live streaming.
There is no doubt that the pandemic has introduced a novel trend of consumption in Chinese people's daily lives. As of March 31, 2020, Taobao reported an 88% growth year-on-year (YoY) in daily active merchants using Taobao live; merchants using the Taobao platform surged 719% in February compared to January; and 50,000 farmers were livestreaming on the platform, selling 380,000 kg of produce to over four million viewers on Valentine's Day.[4] According to China's Ministry of Commerce, the number of e-commerce livestreaming sessions topped four million in the first quarter; and more than 100 government officials participated to promote local products.[5]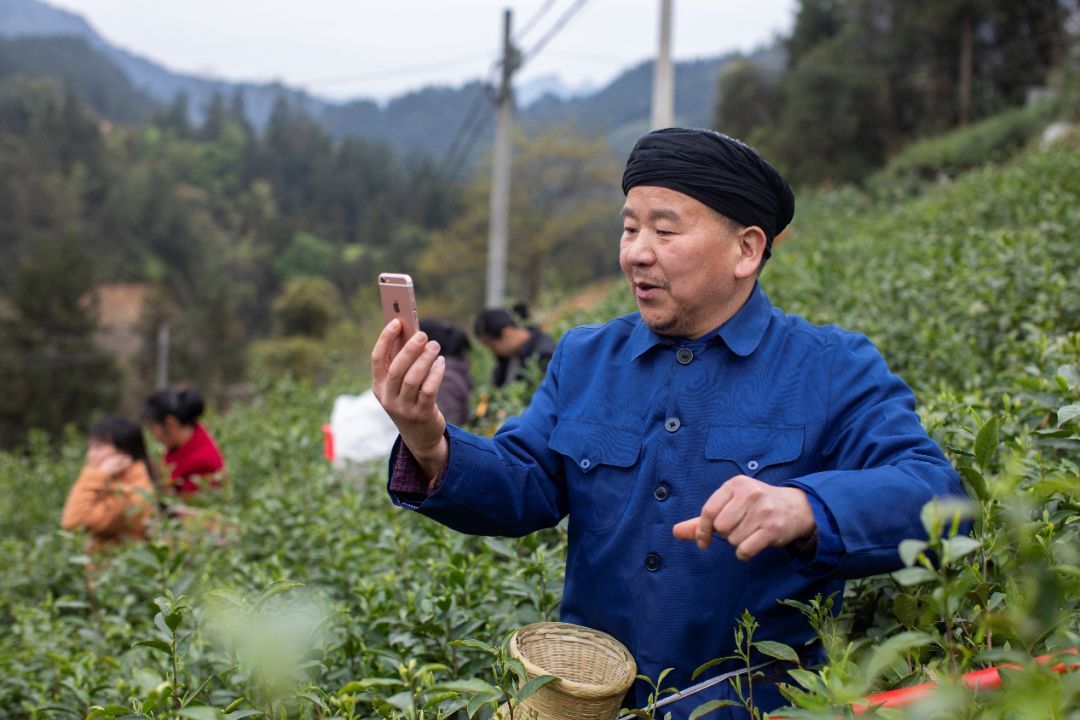 Mr. Huang Wensheng, a Chinese tea farmer, livestreaming from the tea fields in the mountainous Lichuan area in Hunan Province in 2020
(Source: whatsonweibo.com)
The trend has not yet disappeared and is unlikely to get reversed in the coming years even after the pandemic is over. Of course, the impact of livestreaming has not been perfect. The opportunity for people to make loads of money and achieve a spectacular rise to fame in a short period of time has led some celebrities to evade millions of dollars of taxes. Moreover, as people become more reliant on e-commerce, data privacy is becoming an even greater concern. However, on the positive note, the thriving of this new industry has empowered farmers, created new economic opportunities, facilitated local development, and enhanced rural-urban linkage. Shan Jialu, economist and scholar in Asian and Emerging Markets at the International Institute for Management Development commented, "Before the pandemic, livestreaming was only seen as an option for brands to reach Chinese consumers. But now, it has become very integral to how people shop."[6] Li Jinxing, a flower farmer in Yunnan province whose business survived the worst days of the pandemic, said during an interview with MIT Technology Review that the trend represented an overdue update to his way of life, and this was the silver lining of the pandemic. "Once you start livestreaming, you really can't stop," Li said. "Because now you have fans."[7]
---
This article is from the January issue of TI Observer (TIO), which is a monthly publication devoted to bringing China and the rest of the world closer together by facilitating mutual understanding and promoting exchanges of views. If you are interested in knowing more about the January issue, please click here:
Should you have any questions, please contact us at public@taiheglobal.org