Pros and Cons of Cooperation in China-U.S. Relations
May 31, 2021
About the author:
Mevlut Katik,
TIO Deputy Editor-in-Chief,
Head of International Communications,
Taihe Institute Communications Center (TICC)
---
Cooperation and conflict or confrontation in international affairs have long preoccupied the scholars of international relations, not to mention practitioners who have to deal with it almost on daily basis.
It is a theme that often visits and is revisited in both academia and the world of diplomacy. The Trump administration re-introduced the element of confrontation in international affairs while the Biden administration has been trying to coin the term collaborative competition. The raison d'etre and target of both strategies are surely China.
However, the events and trends of the first quarter of the 21st century have brought the world to such an interconnected and globalized level that no matter what a leading country in global affairs like the U.S. does, it proves difficult to change the tide of history. A quick look at some of China's trade figures for Q1 2021 presents supporting proof. China's trade with the U.S. has recorded substantial growth during the period despite the effects of the trade tariffs, global pandemic and negative air in the U.S. Congress.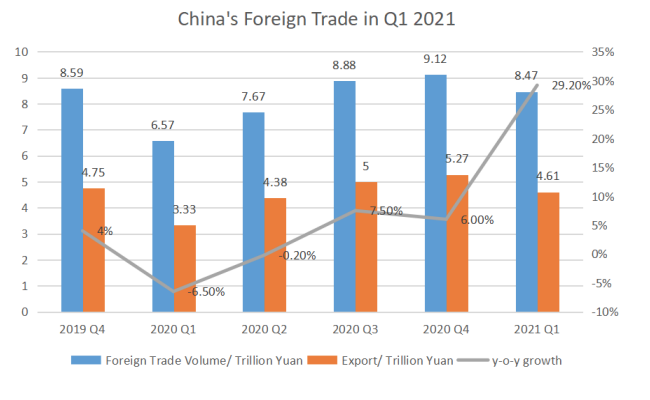 China's exports to the U.S. soared by 62.7 percent year-on-year between January and March of 2021, while its imports from the U.S. rose by 57.9 percent, according to the figures released by China's Ministry of Commerce. The U.S. exports to China also surged, especially in the areas of energy, agricultural products, automobiles and auto parts.
The economic recovery pace between the two countries is picking up, said Gao Feng, the spokesman of China's Ministry of Commerce. The economic and trade structures of both countries are highly complementary, and that there is huge potential for cooperation, he said. China views mutual benefits and win-win situations as the essence of China-U.S. economic and trade cooperation, he added.
Exports to the EU, China's second largest trading partner, rose 24% in April 2021 to $39.92 billion, while imports climbed 43% to $26.79 billion. That is despite the recent dispute about the European Parliament suspending the ratification of the Comprehensive Agreement on Investment (CAI). Chinese exports to Australia, which has an ongoing dispute with Beijing, recorded 20% increase in April to $5.25 billion, while China's imports from Australia rose 49% to $14.87 billion.
History as well as the recent events in the international arena clearly indicate that cooperation has been, is and will be an indispensable part of international relations no matter what may mar it occasionally, whether it be world wars, global epidemics or changing national security strategies.
What is worrying though is attempts at exclusion. Canada's Alberta province has just reportedly ordered its major universities to suspend the pursuit of partnerships with individuals or organizations linked to the Chinese government over what it calls national security concerns. It is disappointing to see these kind of attempts in fields such as science and trade which can only serve the well-being of, and benefit, the mankind. Businesses worldwide, regardless of their country origins, cry out loud about the shortage of semiconductor chips caused by similar exclusion attempts, forcing them into unusual practices. Tesla, the U.S. electric carmaker has decided to make upfront payments to tackle the chip shortage and "secure its supply of critical materials," according to the Financial Times.
Multiple business and other interest groups that represent components of public opinion raise their voices in support of cooperation in U.S.-China relationship with dramatic statistics showing the extent of damage done to the areas they represent. A recent 564-page White Paper issued by the American Chamber of Commerce in China (AmCham) stated: "China is a priority market for over two thirds of our [AmCham] members and our surveys indicate that nearly 85 percent are not considering relocating manufacturing or sourcing from the China market." The White Paper added, "In order to be globally successful, American companies need to be competitive in the China market. A wholesale decoupling of the U.S. and China economies is in neither country's economic interest."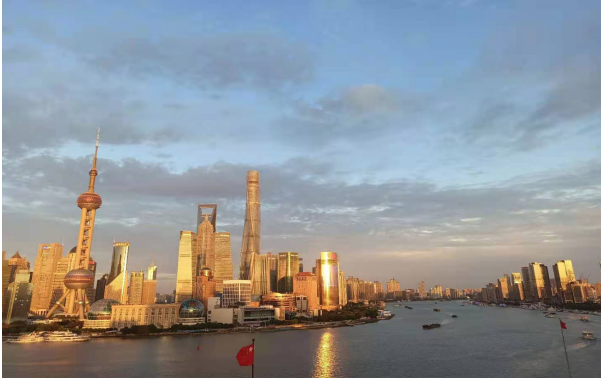 (A view from Shanghai, China's financial hub, which is home to increasing number of American companies in the world's second largest economy)
This striking evaluation of the effects of the Trump administration's policies show clear damage done to the America business community in China, not to mention the rural and small town America's producers and manufacturers in the heartlands of grassroots support for both Trump and Biden.
When mostly exclusion-oriented news are coming from the other side of the Ocean, China has taken a series of inclusive decisions, further opening its doors to American businesses in a space of two weeks in May 2021 alone.
BlackRock, an American multinational investment management corporation, which is the world's biggest investment group was given a go-ahead by Chinese authorities to run a wealth management business.
In another landmark decision, global investors are to be given powers to chase Chinese debtors into the Chinese mainland. Under the new deal, courts in China will recognize Hong Kong insolvency proceedings.
Chinese regulatory authorities have also given approval to Goldman Sachs, an American multinational investment bank and financial services company, to run a wealth management business in China with a 51% majority stake in a joint venture with China's state-owned commercial bank ICBC's subsidiary.
These examples show two competing paradigms in the minds of decision-makers in Beijing and Washington: a collaborative and inclusive one versus an exclusion-based confrontational one.
A scholarly experiment in the field of international relations made through a prisoner's dilemma(PD) game has shown that countries cooperate more when they can communicate.
The PD game is a useful tool in international relations theory as it is representative of conflict and cooperation situations among nation-states. Two parties are locked in a situation in which each has two options: "cooperate or defect (e.g., enter into a trade agreement or not, increase or control arms, begin an armed conflict or not)."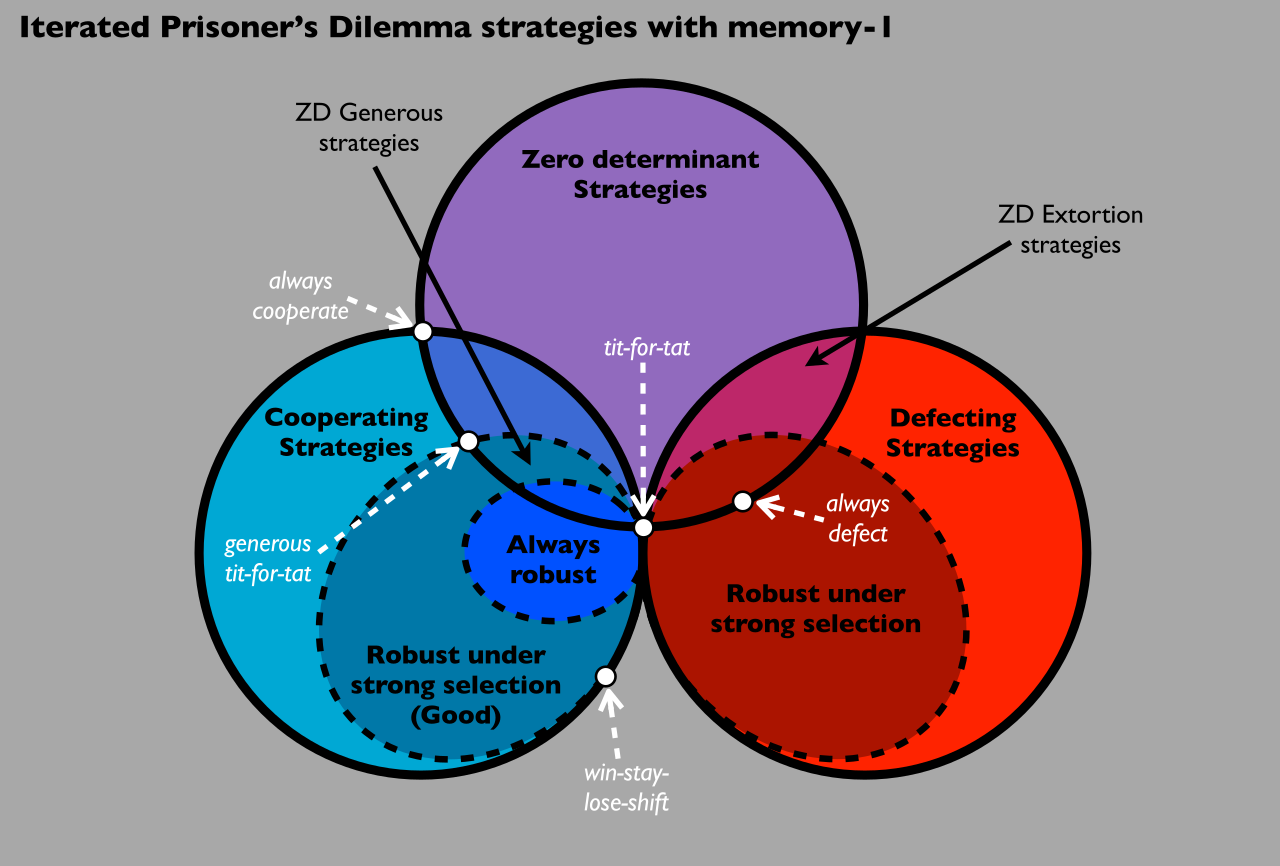 (The relationship between zero-determinant (ZD), cooperating and defecting strategies in the iterated prisoner's dilemma (IPD) illustrated in a Venn diagram. )
In this case, the authors developed an experiment in which nation-states are represented as groups and can communicate with one another. Two groups, each consisted of three human subjects, interacted for 10 iterations of a prisoner's dilemma game as well as an altered version of the game. The authors conducted 79 of these 10 iteration trials to test the effects of communication, including a withdrawal option, on groups' ability to cooperate. Results showed that groups cooperate more and defect less when they can communicate. Most groups appeared to be motivated by fear of the opponent, yet communication proved to be a good mechanism for alleviating fear. However, a small but significant number of groups are motivated by greed in which case communication was not very effective.
The experiment is quite illustrative of the current state of international affairs. It also clearly illustrates the kinds of difficulties exposed in two-actor non-cooperative variable-sum games. It helps us understand what governs the balance between cooperation and competition.
As communication is essential for cooperation, which in turn manage competition, Beijing and Washington should continue to seek further avenues for dialogue. Although a sweeping "EAGLE Act" (Ensuring American Global Leadership and Engagement Act), to counter China was presented to the U.S. Congress on May 27, 2021, surely the world would be better off and safer through cooperation rather than competition and confrontation.
—————————————————————
ON TIMES WE FOCUS.
Should you have any questions, please contact us at public@taiheglobal.org