By the third week of March, the situation began to open up as the restriction of mobility and quarantines in cities such as New York, Los Angeles, and San Francisco began to take effect given the increase in infections, which in one week exceeded the marks of 5,000, 10,000, and 20,000 confirmed cases respectively, in just a few days of differences.7 Faced with the government's doubts about carrying out strict quarantines in the main focus cities, the response of the population in these cities who were under self-isolation began to be more common and aware before the media reports. Trump then declared, perhaps somewhat sarcastically and sadly, for the story: "The U.S. will be powerfully supporting those industries […] that are particularly affected by the 'Chinese' Virus (!). We will be stronger than ever before!" and "I felt it was a pandemic long before it was called a pandemic". The media, in turn, showed great concern and criticism to the intertemporal inconsistencies in the decisions, the discourse of the Trump administration, and the lack of effective leadership in face of crisis.
What may lie beyond: Depression and Acceptance
What happens from now on is still a matter of speculation, derived by the degree of expansion that the virus may spread and the responses of governments to this. At the end of the third week, the number of infected in the U.S. exceeded 12,000 cases, and measures of social isolation or immobility were still relatively weak and late, not only with respect to those taken more than a month and a half ago in China, but with respect to those recently taken by other nations in the Americas (such as Peru, briefly mentioned as an example by president Trump in one of his more recent speeches). Due to political and cultural issues, the necessary restriction of mobility does not occur strongly and if it does, it occurs quite late, which according to various doctors and economists, will cause high costs for public health and the nation's economy (and with it from the world) in the coming weeks and months. This has led many analysts to worry about a great possibility of an upcoming recession.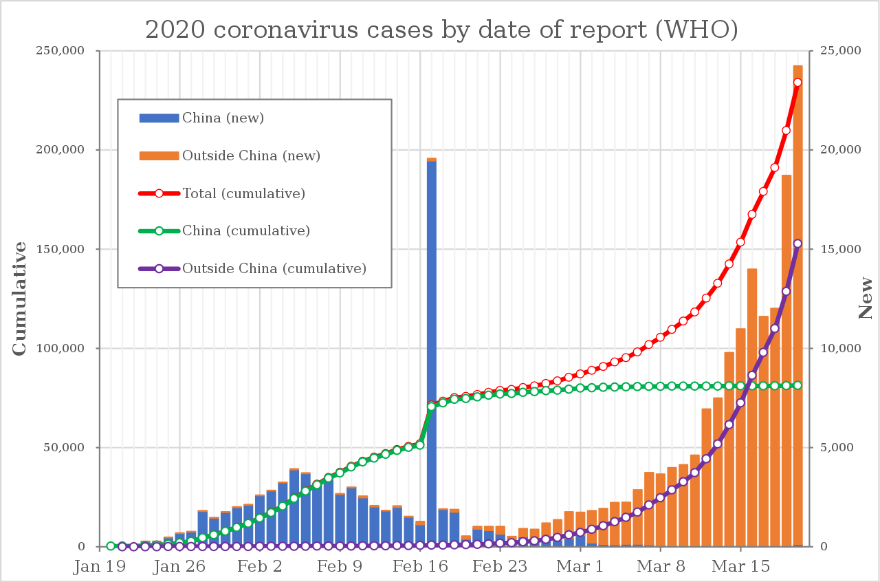 Epidemic curve of COVID-19 by date of report as of March 20, 2020.
(Source: Wikimedia Commons, based on data from WHO and NHC)
The current COVID-19 pandemic has been one of those events that has come to show more than anything the weaknesses of our nations. Regarding the U.S., the once-strong economy that was able to overcome various wars and lead the world for several decades, today faces one of its greatest challenges, not only from the pandemic, but also from its own inconsistencies in the current administration, which have missed a golden opportunity to prepare and take more severe measures against COVID-19 at an earlier time. Although some comment that the context may mark a breaking point in world geopolitical leadership, the truth is that while China has sent medical and volunteer support to Italy and other nations in crisis8, the U.S. has plunged into isolation into its own public health crisis, that it still does not give clear signs to overcome in the near future. And if it does, it will probably still have to face an economic crisis which will also give a lot to talk about in future. In this sense, the U.S. (and the whole World indeed) is currently facing a scenario with implications that may not only be comparable to that of 9/11 or the 2008-2009 financial crisis, but to that of WWII to certain extend.9
A close-up of President Trump's notes shows "Corona" crossed-out and replaced with "Chinese".
(Source: The Washington Post)
In such difficult times, it is a pity for the American people to have no strong and congruent leadership from its President, so distinct to what the country used to have in previous decades and administrations, when in spite of all sort of criticism, it not only managed to deal with and overcome all sorts of crisis, but also exert its leadership and successful results as an example for the world. Maybe, in the context of a crisis where humanity is lacking clear leadership, we should accept that a door has just opened for a new exchange between China and the U.S., at least in terms of international cooperation and global influence.10 Only time will tell.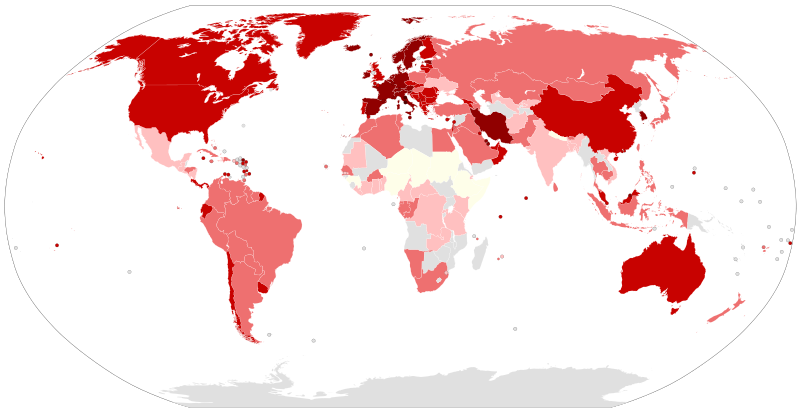 Density map of COVID-19 total confirmed cases as of March 20, 2020 (adjusted per capita).
(Source: Wikimedia Commons, based on data from WHO and NHC)
(This article was written until March 22, 2020.)
(
Please note: the above contents only represent the views of the author, and do not represent the views or positions of the Taihe Institute.)
[1]Holshue, M., et al. (March 2020). First Case of 2019 Novel Coronavirus in the United States. The New England Journal of Medicine, 382 (10): 929–936.
[2]The Paper. (January 29, 2020).
The closing of Xiang Yang Railway Station marked the lockdown of the last prefecture-level city of Hubei province.
Retrieved from https://www.thepaper.cn/newsDetail_forward_5671283
[3]World Health Organization. (February 4, 2020). WHO praises China's effective control measures, calls for world preparedness, not panic.
Retrieved from http://www.xinhuanet.com/english/2020-02/04/c_138753687.htm
[4]The New York Times. (February 26, 2020). Trump Names Mike Pence to Lead Coronavirus Response.
Retrieved from https://www.nytimes.com/2020/02/26/us/politics/trump-coronavirus-cdc.html
[5]USA Today. (February 27, 2020). Dow plunges 1,191 points, its biggest one-day point drop, as coronavirus fears escalate. Retrieved from
https://www.usatoday.com/story/money/2020/02/27/dow-markets-plunge-correction-coronavirus/4889977002
[6]World Health Organization (March 11, 2020). WHO Director-General's opening remarks at the media briefing on COVID-19. Retrieved from
https://www.who.int/dg/speeches/detail/who-director-general-s-opening-remarks-at-the-media-briefing-on-covid-19---11-march-2020
[7]World Health Organization. (March 21, 2020). Novel Coronavirus (COVID-19) Situation.
Retrieved from
https://experience.arcgis.com/experience/685d0ace521648f8a5beeeee1b9125cd
[8]The Wall Street Journal. (February 18, 2020). Chinese Doctors and Supplies Arrive in Italy.
Retrieved from https://www.wsj.com/articles/chinese-doctors-and-supplies-arrive-in-italy-11584564673
[9]Deutsche Welle. (March 18, 2020). Merkel: Coronavirus is Germany's greatest challenge since World War Two.
Retrieved from https://www.dw.com/en/merkel-coronavirus-is-germanys-greatest-challenge-since-world-war-two/a-52830797
[10]Foreign Affairs. (March 18, 2020). The Coronavirus Could Reshape Global Order.
Retrieved from https://www.foreignaffairs.com/articles/china/2020-03-18/coronavirus-could-reshape-global-order
—————————————————————
ON TIMES WE FOCUS.
Should you have any questions, please contact us at public@taiheglobal.org