On 28 February 2018, Ms. Irina Bokova, the former Director-General of United Nations Educational, Scientific and Cultural Organization (hereunder referred to as "UNESCO") and Honorary President of Global Hope Coalition (hereunder referred to as "GHC"), visited Taihe Institute (hereunder referred to as "Taihe") and formally accepted the invitation of being the Senior Fellow at Taihe and Co-Chair of the 2018 Taihe Civilizations Forum. Along with Taihe's Chairman Mr. Binge Peng, Ms. Bokova witnessed the signing of a memorandum of understanding regarding a strategic partnership agreement between Taihe and GHC. Born of Taihe's steadfast commitment to people-to-people and educational exchanges in the past few years, it is an important step in Taihe's pursuit of the global presence.
Mr. Peng, speaking on behalf of Taihe at the awarding ceremony, lauded Ms. Bokova for her outstanding contribution to the promotion of educational, technological, and cultural development around the world. By facilitating cultural integration and exchange, she has worked tirelessly to reduce conflicts and promote global peace. Mr. Peng hailed Ms. Bokova as a leading public advocate for human welfare who has inspired the world with her honesty and courage. In November 2009, Ms. Bokova was elected as the first female Director-General of UNESCO. During her tenure, she spearheaded "New Humanism" and initiated many reforms within UNESCO. Moreover, she actively supported cooperation between UNESCO and China, offering an example for all developing countries wishing to take a greater role in international affairs. Ms. Bokova attended China's 2015 Victory Day commemoration activities, which marked 70th anniversary of the victory of the Chinese People's War of Resistance Against Japanese Aggression and the World Anti-Fascist War, and in October of the same year, she approved Nanjing Massacre documents to be included formally in the Memory of the World Register. By doing so, she proved herself to be a defender of international justice and brought a refreshing change on the stage of world politics.
Under Ms. Bokova's leadership, UNESCO sponsored the founding of Global Hope Coalition, an international not-for-profit organization. As a global platform aiming against violent extremism, protecting cultural heritage and promoting cross-cultural exchanges, GHC's goals align with those of Taihe and Taihe Civilizations Forum. Taihe is looking forward to forging a close partnership with GHC in such areas as education, culture, and social affairs in order to promote harmonious co-existence and equal exchanges between different cultures and civilizations. Through facilitating international cultural exchanges under the Belt and Road Initiative, the two organizations will work together to build a community of shared future for mankind.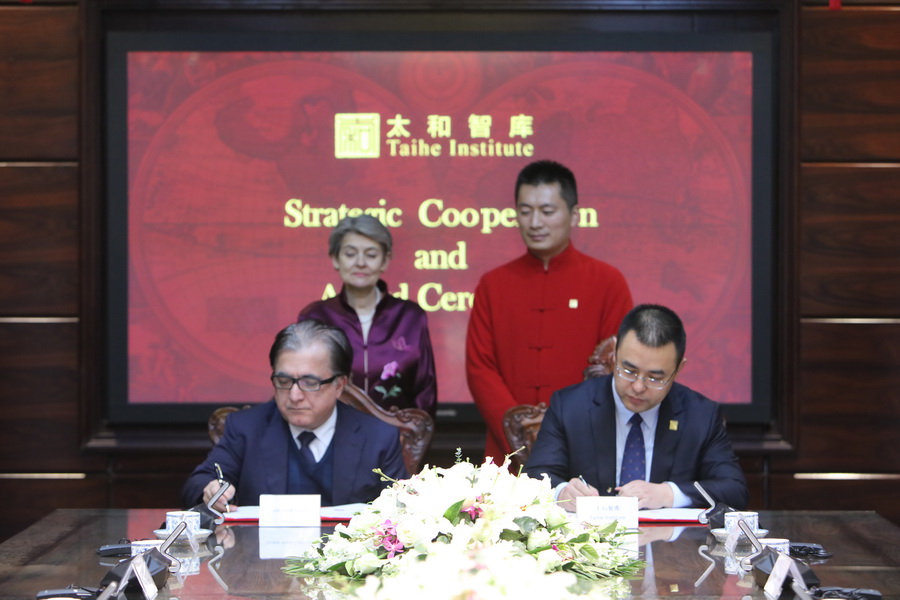 "I am very honored to become a Senior Fellow at Taihe and the Co-Chair of the 2018 Taihe Civilizations Forum," said Ms. Bokova. "Right now, by facilitating exchanges and dialogues in areas such as education, technology, and culture, we can build mutual understanding, trust, and cooperation, all of which are pivotal for working towards global peace and human progress. China has become a great example to the international community in this regard. GHC is aimed at promoting inter-cultural understanding to make the world a better home for all. Only those who understand and appreciate their own culture can be confident enough to respect and understand other cultures. During the past decade, UNESCO has initiated many projects to this end, gaining a lot of valuable experience. I am very grateful to China for its strong support, and the Belt and Road Initiative which President Xi has proposed will open up more spaces and opportunities for our work. In the past few years, Taihe has been actively supporting and participating in UNESCO's projects, and I have struck up a good friendship with Mr. Peng. Taihe's motto and recent achievements are certainly impressive. I am very pleased by the new strategic partnership between Taihe and GHC, and I look forward to both of them joining forces on the ground in diverse fields. I am also looking forward to the 2018 Taihe Civilizations Forum."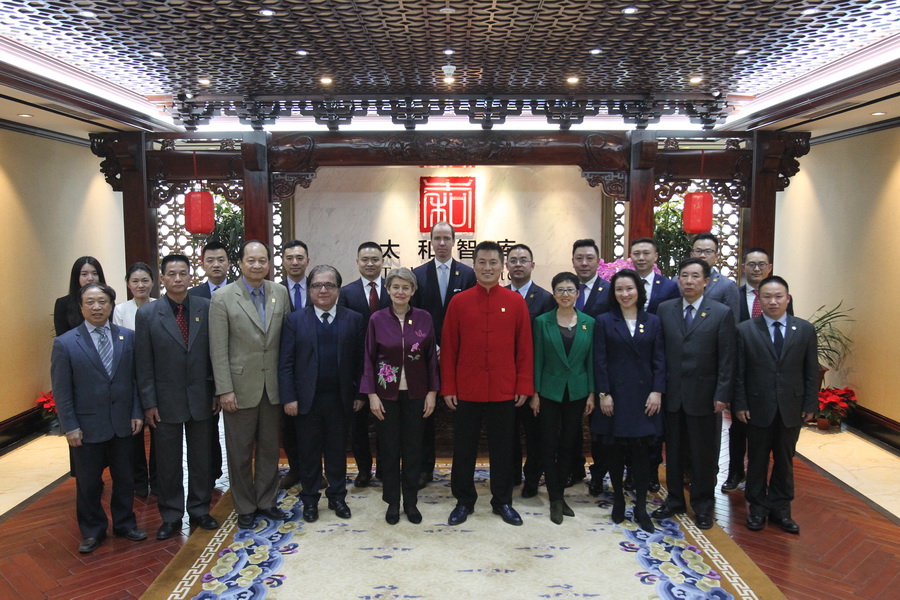 Accompanied by Taihe, Ms. Bokova has also visited the Chinese People's Institute of Foreign Affairs and Peking University.