The world will be stronger if the youth in the world
November 02, 2017

Thank you Alexander. Thank you everybody.
It's been a great pleasure for me to be here for two years now, talking and listening to you, the youth of the world. This morning I spent some quality time with Mr. President. His enthusiasm and the way he wants to drive, showed me that he's not old at all. He's not aging, he has a very young heart. Someday I'm going to go to the southern part of Africa and knock on his door. I think what Mr. President has been saying is inspirational, and he is very right about the concept of knocking on doors. I can tell you that Perfect World not only has doors in China, doors throughout Asia, and doors in the United States, but also doors in Europe including here in France as well.
Even though we call our company Perfect World, I understand that nothing is perfect, right? We're not perfect, our company is not perfect, and the world is not perfect. We have many issues, we have many challenges. Today I listened to some of your sessions and I enjoyed hearing all the analysis of challenges and the solutions. I want to share some of my view on challenges that I see in two aspects.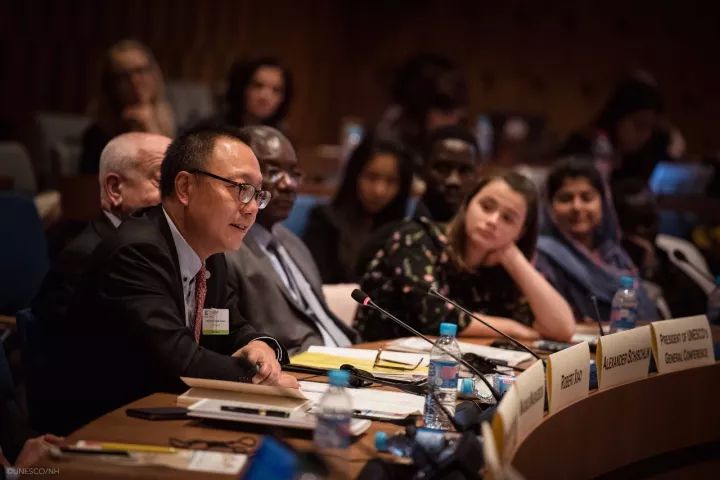 Beyond a business person, the first challenge I will talk about is on multilateralism. Especially when recent decisions of some of the world leaders, the more powerful ones, are denying multilateralism and not taking the right responsibilities toward the world. We all enjoy great movies, right? One of the things that I learnt is from the movie Spiderman. We all know that Spiderman said "the greater the power, the greater the responsibility," and that is absolutely true. Unfortunately, people are divided, not every person is supporting multilateralism, but those who are supporting are people taking responsibilities. What can we do? What can the rest of the world do? I think that's a big challenge for us, but there are solutions.
There are private sectors, there are more people who really believe in the vision of a whole world, really believe we need to be together, we need to conduct multilateral exchanges, dialogues, we need to work together, not only one country but the whole world. A lot of people who sit in the private sectors still believe in multilateralism, so there are a lot of doors to be knocked on. And of course, the other thing I do believe, the solution, is you: the young people.
I was young once, yet then I'm not old, I'm pretty young in heart too. I was once as young as you when I had my dreams. And I can see from you today, the intelligence and the enthusiasm, that I believe I once possessed. I think that is an asset, a very important asset, and the expectation for you is higher than the generations before: you need to take on this world. You need to become leaders in every aspect of the world: in the governments, business sectors, social organizations, and so on. You need to take the leadership earlier, earlier than my generation. This is a very high expectation, and this is the solution, because only you can change the world, which we probably have difficulties in changing now.
Talking about people, I think the second challenge I see is personal challenge. Again, as I was recalling what I've experienced as a youth, I realized that when you're young, you might lack of the experiences, the broad knowledge, the mature thinking, the analysis, all of these might not be here with you yet. The world need to be changed, and you need stronger skills and more resources.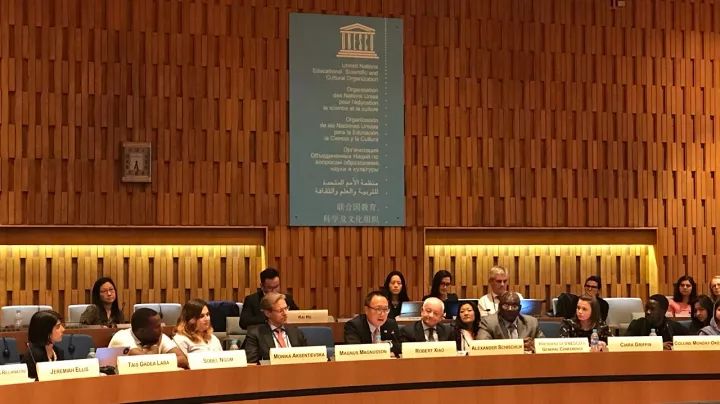 People always talk about lack of resources. Not only money, you need all kind of resources. I think that's a big challenge, a personal challenge. It is a challenge for personal development. The world needs you to be leaders in every aspect, faster than your parents' generation, but you need more resources for faster development. And the solution is simple, it's engagement, knocking the doors of the world, building your own network. I think this Youth Forum is great, you must have met a lot of new friends, heard a lot of different opinions and exchanged your ideas. You should appreciate different cultures and different opinions, and you should develop your own independent thinking. I consider that is the most important key factor, very special factor.
As a businessman, when I select my people who I believe could be the future leaders, the most important characteristics I look at are independent thinking, maturity, and the learning capability. Be able to accumulate, be able to analyze, be able to learn and be able to broaden the knowledge, to reach across the world, reach between individuals. Those are the things I think you need to develop, you need to continue to develop, and then you will have a better chance to be a leader in those sectors you might want to tap into.
As in Perfect World, we are committed to provide resources, to provide opportunities, and we're doing this not only we are tasked in producing entertainment and technology products for young people, but we're also trying to take more responsibilities to help the young people who happened to be our consumers. The way we do it are simple. We have our education subsidiary in China and someday we want to extend it to outside of China. We're sponsoring different youth activities through different platforms like UNESCO. We have a great partnership with UNESCO, and we have programs with UN as well as some organizations in United States. And we want to extend it, because we believe only by putting people together, giving people more resources, then we can make this world a better place.
The world will be better, if you are better. I think there is a Chinese saying that has been there for probably a hundred years. It says "China will be stronger if the Chinese youth is stronger". But I want to extend it - the world will be stronger if the youth in the world, especially the leaders of the youth, are stronger.
Today when I started to prepare for my talk, I want to summarize in the title as: youth as the hope of the future. When we tried to explain to people what Perfect World, our company, means, after much of a debate several years ago, we came to a conclusion that, even though we will not have a real perfect world, but we are committed to pursue perfection, the perfect world is something in our goal. So we describe our company as "having hope, is to have your perfect world." And today I want to close my talk by saying, that if you are stronger, if you keep enthusiasm, if you continue in hard working, if you keep connected and engaged, the world will be better. And together, we can make the world truly perfect.
Thank you.
—————————————————————
Taihe Institute. Focus on the need of times.
Should you have any questions, please contact us at public@taiheglobal.org